Luisa Häuser Bridge Germany

TDV was approached by EHS Consulting Engineers, Germany, to assist in this project.
Luisa Häuser is a bicycle and pedestrian bridge over River Lahn in Marburg, Germany. It is a gravity-anchored suspension bridge with total length of 56 m and with main span 48 m long. The deck width is 3.5 m and the deck slab thickness is 20 cm. The suspenders are steel wire, the pylons steel and the deck slab is reinforced concrete.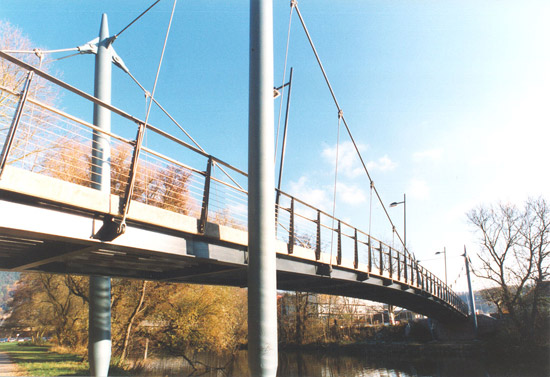 Luisa Häuser Bridge, Suspension Bridge
---
Contract:

Luisa Häuser Bridge, Germany

Owner:

Bauherr - IVG Investoestorengemeinschaft Schlachthof-Luisabad

Consultant:

EHS Consulting Engineers, Germany

State of Construction:
TDV Involvement:

Non linear behaviour of staying cables
Large deflections
Dynamics
Graphical representation of results